I'm maid of honor in my best friend's wedding this Friday, which is super exciting! I've been getting "wedding ready" … you know, figuring out hairstyles, deciding which makeup to use, spray tan, and of course, a pedicure! Pedicures are awesome. My favorite part is when they shave the dead skin/callouses from the bottom of your feet. It sounds gross (and kind of is), but if you've ever had a pedicure, you understand how great it is. This is where Emjoi's Micro-Pedi comes in handy.
---
Disclosure: I received an Emjoi Micro-Pedi for product testing from Lipton Publicity. No monetary compensation was received. All opinions are 100% my own.
---
Pedicures can be pricey. They generally last one month. If you have $40+ to drop that often, then that's great! But if you're like me, you don't. So I choose to do my own pedicures. 🙂
First, I use a foot bath. I like the Conair Foot Spa with Vibration and Heat (affiliate link/photo shown below).
Then I use Earth Therapeutics Tea Tree Oil Footsoak (affiliate link/photo shown below).

I soak the skin on my feet with the foot bath, exfoliate with the tree tea oil scrub, dry off my feet, paint my nails, and then use the Micro-Pedi.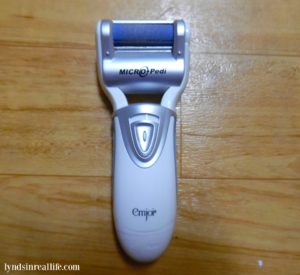 It's incredibly easy to use, and my feet feel like a baby's bottom when I'm done. It doesn't hurt (though sometimes tickles); just make sure not to keep it in the same place for more than 3-5 seconds. You simply move it back and forth over the desired areas, and voila! It feels just like it would at a nail salon.
Also, it's much safer than the metal scrapers they use at the salon. So that's a big plus!
According to the American Podiatric Medical Association website, "Your feet must last a lifetime and most Americans log an amazing 75,000 miles on their feet by the time they reach age 50."
Great looking, smooth feet are youthful, more alluring, comfortable and imperative for health, sports participation and grooming.
Here's my left foot before using the Micro-Pedi, and after ONE USE!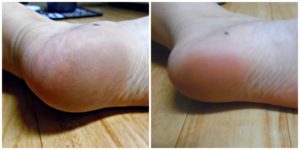 Pretty amazing, am I right?
The Emjoi Micro-Pedi costs $39.95 on the Emjoi website (with free same-day shipping), or you can get it for $14.95 (with Prime shipping) on Amazon (affiliate link).
Follow Emjoi (and all their amazing beauty products) on Facebook and Twitter.
Do you get pedicures? Have you ever tried doing them yourself?
What's the most important aspect of a pedicure for you?
Thank you so much for reading!
[subscribe2]
Facebook | Instagram | Twitter