Over the past 8.5 years, my fiancé and I have moved six times. For the first four moves, they were one year apart. It was exhausting! During our last move, I had just had neck/shoulder surgery and could not lift anything. We don't own a ton of furniture, but we do have a California King mattress and bed frame, a queen mattress and frame, as well as two couches. Basically, these things cannot be lifted by just one person.
It was during this last move that my fiancé and I realized, that for future moves, we need to make sure we hire movers. We highly recommend one Las Vegas, Nevada moving company:
Muscle Movers LLC Las Vegas

is a moving company that serves Las Vegas, Clark County (where Las Vegas is located), and the surrounding areas. Their services include commercial and residential moving, labor, packing, and even helping with bulky furniture including pianos or

moving hot tubs in the Las Vegas

area.
With all my moving experiences, I feel like I've gotten relatively good at getting prepared.
Below are 8 tips on things that I've learned throughout the process!
Stock Up on Boxes
You'll obviously need boxes. I recommend either getting some from home improvement stores or any other store that sells them. However, I have always posted in neighborhood groups (NextDoor, Facebook) asking for used boxes. Every single move I've made, I've been given free boxes! So definitely check there first.
2. Stock Up on Bubble Wrap, Packing Paper, and Packing Tape
You'll need bubble wrap and packing paper to be sure you properly pack your belongings. This is something I didn't think about for the first few moves (I know, I know). Honestly, I just wrapped everything in my clothes. Granted, for the first few moves, we didn't really have too many belongings or furniture. You'll need good packing tape, too. Make sure it's quality tape and not thin and flimsy.
3. Start Packing Early
This one may seem obvious, but I'll admit that I'm a professional procrastinator. I usually wait until the very last minute (literally one or two days before the move) to pack. It ends up making the stress I already feel tenfold. It's awful! So yes, start packing as early as possible. This will give you time to organize your boxes and properly pack your belongings.
4. Label Your Boxes
I cannot stress this one enough! You need to label your boxes. Usually, the boxes are labeled based on the rooms in which those boxes belong (i.e. master bedroom, kitchen). However, for boxes that contain things that I'll need to find immediately, I'll put a list of the included items on the box. This takes more time, but it really helps once we're in the new place.
5. Hire Movers!
If you're in a financial position that allows you to hire movers, do it. Especially if you have a lot of furniture and other big items. Movers will help provide some relief for you; it's worth it!
6. Rent a Moving Truck
If you hire movers, a moving truck is probably already included. However, if you're doing the move on your own, you'll probably want to rent a moving truck (U-Haul, Penske, etc). There are various sizes of these trucks, plus you don't need any type of special license to drive them (not sure if this is safe, but it sure is convenient!).
7. Stock Your New Fridge and Have Plenty of Water
One problem we've always run into is not having enough food and water (not only for us, but for the movers!). We're so caught up in the process of moving that we forget to stock up. This has happened more times than I'd like to admit. Therefore, I highly recommend having food in the fridge at your new place (and at your current/old place), and make sure to have plenty of water!
8. Thank and Tip Your Movers!
Your movers worked hard to make sure your belongings were well taken care of and arrived at the right destination. Sometimes, this is done in extreme weather (example: today in Las Vegas, it is 113*F). It's incredibly important that you thank your movers AND tip them!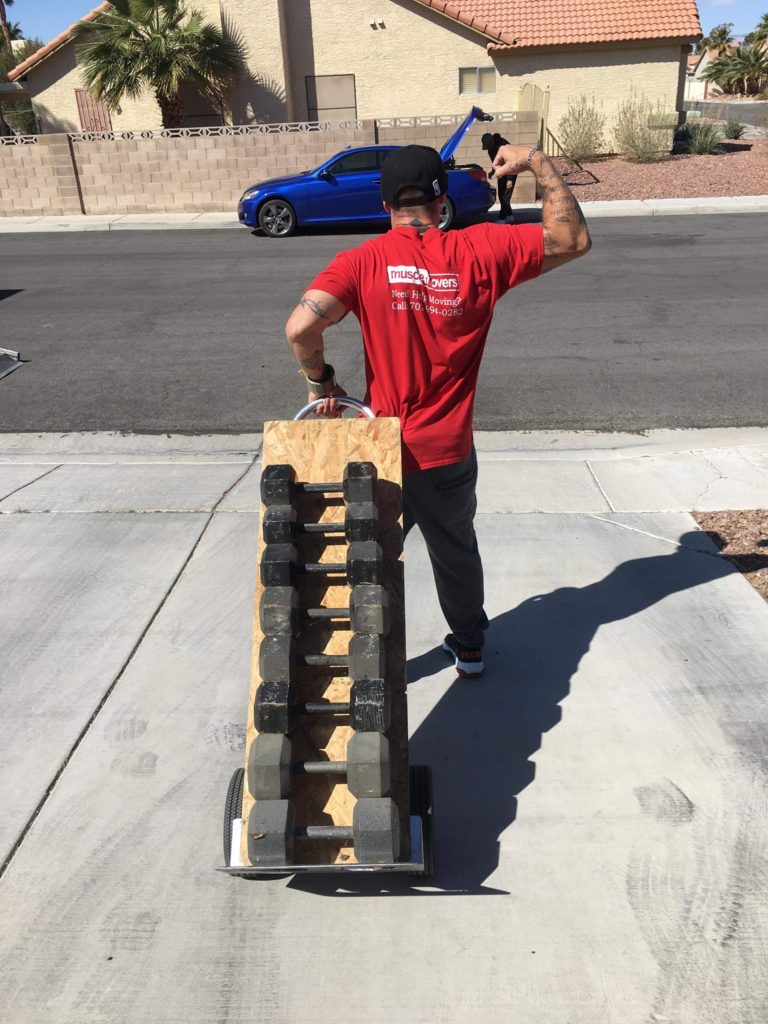 I hope these tips help during your next move! Use my experiences and the mistakes I've made to ensure things are less stressful for you.
If you're in the Las Vegas, Nevada, or Clark County areas, be sure to contact Muscle Movers LLC Las Vegas for all your moving needs!
Do you have any tips on moving? Please share them below!
Thank you for reading!