I have a duvet and a weighted blanket, and admittedly, I had been using them without a cover. I prefer covers to avoid stains, odors, and other messes from getting on my duvet/blanket. But my gosh, all the duvet covers I've found are way too difficult to use! I don't even use my weighted blanket cover because it is SUCH a HASSLE.
Allow me to introduce Beddley, the three-sided zippered and hassle-free duvet cover! Putting on this cover is so incredibly easy that I barely have to think about it. It also takes barely any time at all, which is especially great for when my pup wants to roll around on the blanket/bed (always!).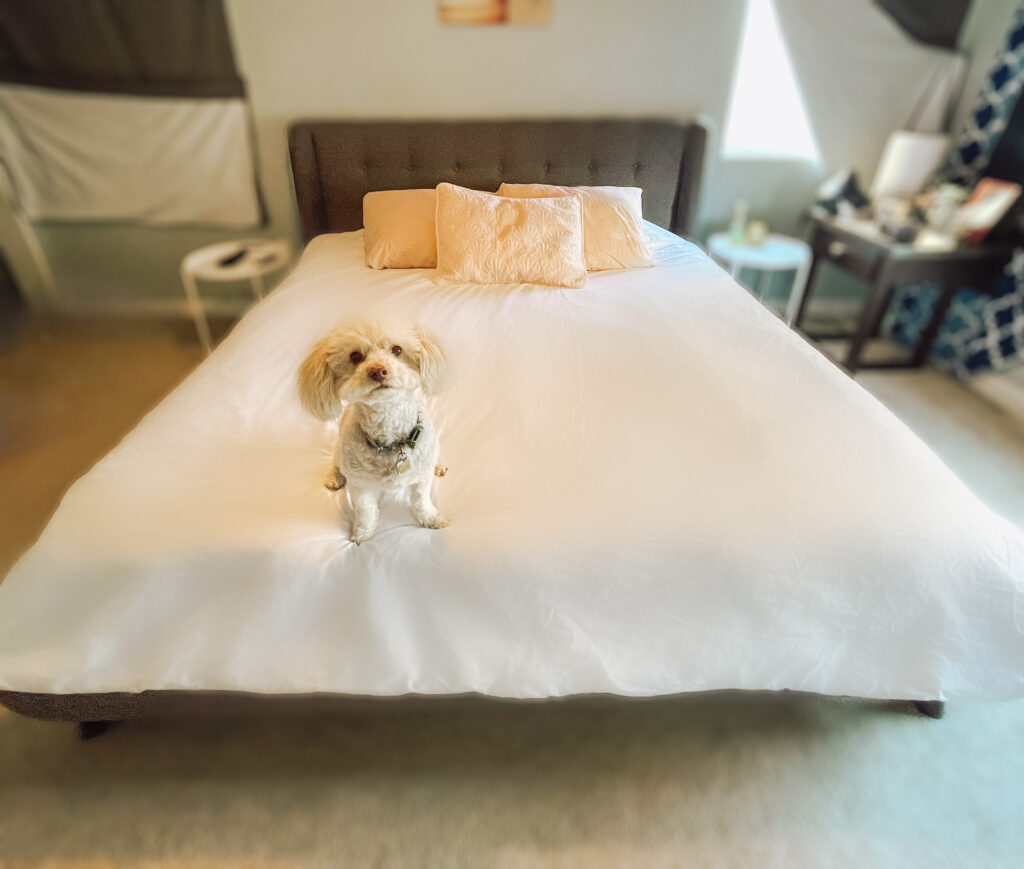 Pictured is the Beddley Supreme White Easy-Change Duvet Cover (Queen). Our bed is a California King, but my duvet is a Queen, so I went with that size and it fits perfectly! Also pictured is my dog Archie. He LOVES snuggling with the new duvet cover!
A couple of things I really love about my duvet cover:
1. It's cotton, so it's soft AND keeps me cool through the night (ugh to microfiber).
2: It's easy to wash!
---
I had the opportunity to speak with the lovely and gracious founder of Beddley, Lola.
(edited for length and clarity)
Curious about the creation of Beddley, I asked Lola:
When deciding to create Beddley, was there a significant moment, or a series of moments, that led you to that decision?
Lola: "Absolutely! It was a combination of several moments that inspired me to create Beddley. As an avid user, I found the existing options difficult to use and couldn't find a suitable alternative on the market. That realization sparked my determination to develop a better solution that would enhance comfort and convenience, and offer a superior user experience. It was the culmination of my personal experiences and the desire to make a positive impact that led me to embark on this entrepreneurial journey."
---
---
I know I'm glad Lola decided to create Beddley! From there, I asked:
What sets apart Beddley from other duvet covers and/or companies?
Lola: "The unparalleled benefits and advantages of Beddley set it apart from other duvet covers and bedding companies. The most important differentiators of Beddley are: efficiency (speed), ease, convenience, comfort, time-savings, cost-savings (for hotels), and pet-friendliness.
Solution Product:  Beddley is more than an ordinary duvet cover, it's a permanent solution to an everyday bedding problem, the age-long duvet cover struggle. 
Ease of Use: Unlike traditional duvet covers that partially open on one side, the Beddley duvet cover opens wide on 3 sides (like a clamshell), so your duvet is fitted in 3 quick and easy steps, and your bed is made up to 10 times faster.  No stress, no sweat, no stuffing or shoving the duvet.
Innovation Benefiting All Ages: The traditional duvet cover has been around for centuries and people have endured the duvet cover struggle for that long. Now, Beddley has revolutionized the bedding industry by inventing a modern solution that works for all ages and capabilities. 
Social Aspect: Beddley is easy to use for the frail, seniors, kids, wheelchair-bound, arthritis patients, and people with other medical conditions such as back pain, surgery, cancer, etc.
Simplicity:  Each duvet cover is powered by a 3-sided zipper system which is user-friendly and made of easy-care, reliable coil zipper. No fiddling with buttons.
A terminally ill (cancer) patient living in Australia once told us: 

"Using Beddley is the only way I can make my bed without help. It has given my life meaning and has brought back a sense of dignity into my life."

That means a lot to me and I'm grateful to be of service.
Beddley is indeed a game-changer."
---
Give us a fun fact about you!
Lola: "Well, I once went on six Caribbean cruises in less than two years! I just couldn't get enough of the beautiful islands and the amazing experiences they offered. It was an incredible adventure that fueled my love for travel even more!"
---
I'm really enjoying my Beddley duvet cover. I'm truly so happy to have it, bed-making is no longer a huge hassle!
Get your own Beddley cover on their website!
Disclosure: I received a free Beddley duvet cover in exchange for my absolutely honest opinion. My disclosure policy can be viewed here.
Thank you so much for reading!