I turned 29 this past Wednesday (April 5); only one more year until 30! [eek!] I had the day off work and wanted to spend it doing something I haven't done before. Last year was hard to top, because I spent it at the beach in Malibu (I lived in Los Angeles then). However, living in Las Vegas, we live really close to the infamous Red Rock Canyon (about 40 minutes from downtown Las Vegas; not to be confused with the one in the SaMo mountains). I love being outdoors and being active, so my boyfriend and I decided we were going to hike the Ice Box Canyon trail @ Red Rock Canyon!
These are the red rocks (created by sandstone peaks and walls called Keystone Thrust) that are seen when driving through the scenic 13 mile loop.
And don't worry, we didn't forget to bring our little poodle, Archie. 🙂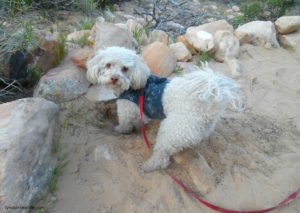 Archie loves to dig in dirt and sand.
We chose Ice Box Canyon because it's mostly shaded, and it's ideal for the summer, when the temperatures get above 100° F. It was about 76° on my birthday; perfect hiking weather! Tim (my boyfriend) had hiked this trail before, so he knew what to expect.
The trail was marked difficult, but I would rate it as moderate. On the way to, well, wherever our destination was, was a bit uphill. I definitely broke a pretty good sweat. There are a ton of big rocks to climb over. I was surprised at how well Archie could jump up and over the rocks! I'd rate it as moderate because I'm not in the best shape, but I was able to complete the hike without feeling like I was dying. Beginners can definitely do this hike, in my opinion.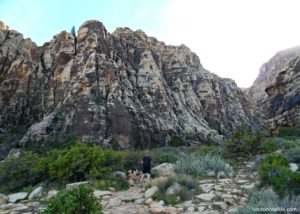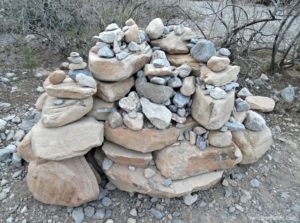 I wanted to wear something that was going to provide compression, while not being too constricting. I wanted it to be moisture wicking for when I would inevitably sweat. I also wanted to look cute, because it was my birthday! So I chose to wear an outfit from Katie K Active, a company that makes all-inclusive women's active wear (sizes S-3X).
I've been a brand ambassador with Katie K Active for 3 years; they're hands down my favorite active wear brand. The cool thing about being an ambassador is I get to offer my readers a DISCOUNT! Go to KatieKActive.com, place your order in your cart, and use promo code LYNDSAY25 for 25% off your order plus free shipping!
We got to see so many cool things along the way, like cacti, wildflowers, and fun rock formations.
Tim and I were being silly, as we usually are. 😉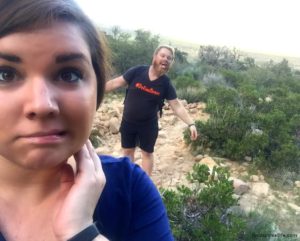 Oh, and we found a cute little pond!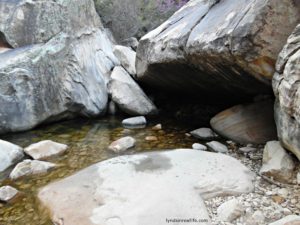 The hike was so much fun, and I can't wait to go back. 🙂
---
Later in the day, Tim picked up my surprise birthday cake from Freed's Bakery. He knows I love when he gets me a cake as my birthday present. He even sat down with a cake specialist to design it! Freed's Bakery has been voted Best Bakery in Las Vegas over 30 times; he did his research to get me the perfect cake.
Don't you just love how Archie is looking at that beautiful cake? He knew it was going to be delicious! *I did not feed Archie any of the cake*
This particular cake was made with bavarian cream, vanilla cake, and buttercream frosting. It serves 6-8 people (but we definitely ate this just between the two of us, shhh).
---
I had such a great birthday, and if it's any indication of how this next year will go, I am gladly looking forward to my 30th (but it can go slow!).
Have you ever hiked Red Rock Canyon?
What do you like to do on your birthday?
Thank you for reading! Please subscribe here if you'd like to receive new posts by email:
[subscribe2]
Facebook | Twitter | Instagram