I've been training for a half marathon (my first EVER!), and running has proved to be HARD. It's definitely harder than I imagined. I realized that if I'm doing something fun while I'm running, it's a lot easier. Luckily for me, and the entire city of Las Vegas, the #Happiest5k on the planet will be here Feb. 24: The Color Run Hero Tour!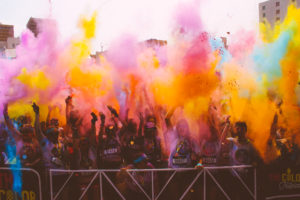 Celebrate the hero in you at The Color Run Hero Tour with new course elements like: A Hero Zone, two SUPER Zones featuring double the color, a super-charged Finish Festival, superhero themed elements and more. It's the perfect event to have FUN while being active!
You can look forward to the super charged Finish Festival after the run that will be brimming with adorable Instagrammable photo ops! This festival will feature a Grub Garden, with food vendors and outdoor seating, plus a Hero Zone, which is a trampoline photo-op activation that gives Color Runners the opportunity to soar into the sky and capture their #TCRHero moment. There will be a foam area, music, and dancing. The Color Run's signature massive color will throw every few minutes from the main stage!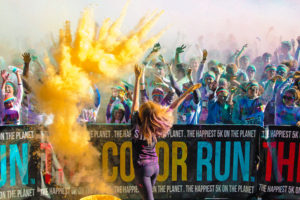 When: Saturday, February 24 ::  8:00 a.m.
Where: Downtown Las Vegas :: 945 Fremont St Las Vegas, NV 89101
What's Included: This year's kit features a unicorn hero medal, lightning bolt tee, temporary tattoos, pin, buff, and color packet.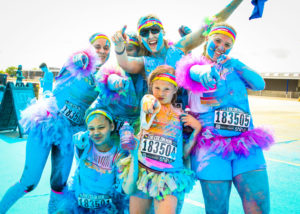 I'm signed up as part of a team: Sweat Pink Las Vegas, & you should join too! Men and women welcome 🙂 Sign up through my link here! 
Check In Party: 
Come to the Check-In Party and pick up your participant kit in advance to avoid lines on event day!
Where: Downtown Container Park
707 Fremont St
Las Vegas, NV 89101
When: Friday February 23, 2018
12:00 p.m. – 6:00 p.m.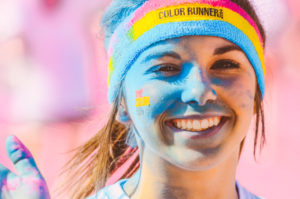 Charity Highlight
As the #Happiest5K on the Planet, TCR wants to make the world a happier place. They're teaming up with Three Square to work toward a hunger-free community.  There are 3 ways to get involved:
* Bring non-perishable canned goods to thelocal food drive at The Color Run event.
* Donate now HERE!
* Virtual Food Drive HERE!
Instagram Giveaway
Head on over to my Instagram to enter the giveaway for a FOUR-PACK of tickets to The Color Run Las Vegas!
Disclosure: I received free entry to The Color Run in the hopes I'd mention it on my blog. No monetary compensation was received. All opinions are my own.
Have you completed The Color Run 5k?
How do you make running fun?
Thank you for reading! Please subscribe below if you'd like to receive new posts to your inbox:
[subscribe2]
Facebook | Instagram | Twitter