Last week, I attended my 3rd BlogFest at IDEA World (hosted by Fit Approach/#SweatPink) at the Las Vegas Convention Center. It was a health and fitness blogger's dream! I had the best weekend with the best people, and I'm excited to share all about it here on Lynds in Real Life!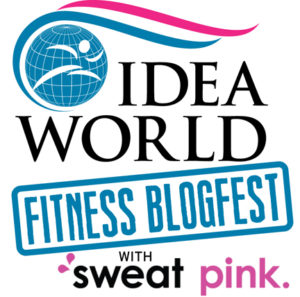 I made sure to rock my swag from past BlogFests, like my #sweatpink tanks, bags, jewelry, and the Reebok shoes I got the first year.
My boyfriend Tim went to the expo with me, and it was really fun! The expo had a ton of booths related to fitness, nutrition, health, and overall well-being. They gave out samples, hats, shirts, pens, etc. to people who stopped by. We tried some really great snacks, like Perfect Bar, Skinny Salamis, and California Figs. I got a chair massage from Soothe. There were soda alternatives (which is perfect, because I cut out soda 6 weeks ago, and it's HARD) from companies like La Croix, TopoChico, and Pure LYFT (a caffeine alternative).
I learned so much in the BlogFest sessions. I've been blogging for almost 4 years, but things are always changing, and it's important to keep up with that, and also adapt to stand out in the market. We heard from:
Inside the BlogFest room, sponsors provided us with snacks, which were perfect to keep us fueled throughout the day. My favorite was Siggi's, a company that makes icelandic skyr yogurt. It's my favorite yogurt, not only because it tastes amazing, but it has high protein and low sugar. They came out with a new drinkable yogurt (filmjölk), and it's definitely going to be a household staple.
I also really loved the fresh figs from California Figs. I had never had a fig before, and was nervous to try it; but I was pleasantly surprised! I'm not sure how to describe the texture, but it reminded me of eating an apricot. They're very juicy, and in season right now.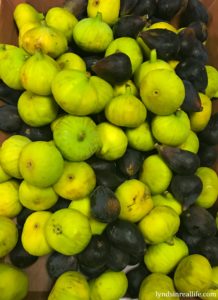 We were able to schedule 1:1 sessions with brands (the ones who sponsored Blogfest), and this hadn't been an option at the Blogfests I'd been to before (2014, 2015). Naturally, I was really excited about it! As a blogger,  working with brands is almost essential (at least a few times). Especially if you want to be noticed, and have that extra exposure (+ if you want to make any money blogging). There was one brand in particular that I was really interested in working with: Takeya.
Takeya makes AMAZING water bottles. The lid is patented, that's how awesome it is. It keeps drinks hot for 12 hours, and cold for 24 hours. Legitimately, even 12 hours later, the ice in your bottle will still be frozen. Mind blown!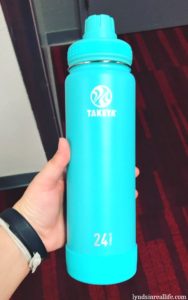 Vooray was having a special: almost 50% off their gym bags. I really loved their Zen bag for yoga, the gym, and also a nanny bag (I'm a nanny for those who don't know!). Sooo, I bought it! It looks really nice, and reminds me of a designer bag (which I'm all about). It's functional, pretty, and totally worth the buy. I got the one on the left, but also really loved the pattern of the one on the right. I almost bought two!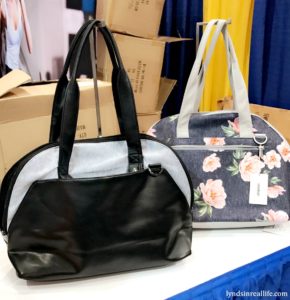 Blogfest 2017 was such a hit, and I'm so grateful to have had the opportunity to attend. I've never enjoyed any other conference/convention as much as I do Blogfest and IDEA World! I'm really looking forward to next year in San Diego; I hope to see you there!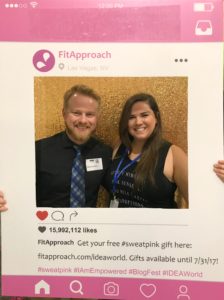 Did you attend BlogFest this year? Or any in the past?
What's 1 or 2 things you'd like to learn about at a blogging conference?
Thank you so much for reading!
If you'd like to receive new posts by email, please subscribe below:
[subscribe2]