2018 is MY year (even if it's halfway over). The year I really take control of how I look and feel. I'm tired of seeing pictures of myself and thinking, "ugh, who is that person?" I want to meet up with old friends and hear them say, "wow, you look great!" I want to feel confident when I'm out and about, whether it's on The Strip, at the pool, or at my apartment complex. I just turned 30 and I want to look and feel my best!
So, I decided it was time to take charge and make a change. I want to feel confident and proud this summer.
I took up running, made healthy changes in my diet, purchased better skincare products, and I chose to #SmileFearlessly with the Smile Brilliant teeth whitening kit!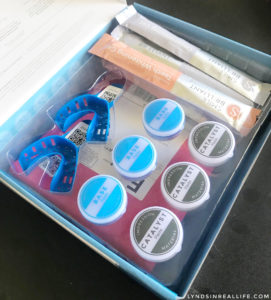 Disclosure: I received a free Smile Brilliant whitening kit in exchange for a review on my blog. No monetary compensation was received. All opinions are my own.
I drink a lot of coffee (hello #NannyLife), and tend to eat acidic foods. My teeth seemed to become yellow so fast, and I guess I never really thought about what was causing it (colors from food are absorbed through microscopic pores).  I realized I needed a way to make my pearly whites (erm, yellows?) sparkle, especially for those Insta-worthy photos. 😉
Smile Brilliant provides at-home whitening kits, complete with molds (to create custom whitening trays), whitening gel, de-sensitizing gel (depending on your kit), and a holder for your trays. It also includes a prepaid postage envelope to send the custom molds to the lab to create the clear custom fitted whitening trays.
With SB, you get the same results as you would at the dentist office, but for much less money!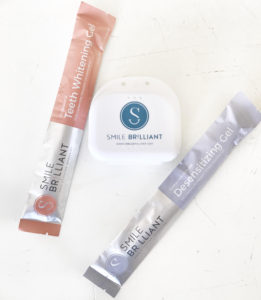 There are 6 kits to choose from; ranging from heavy stains to light stains, and nonsensitive vs sensitive teeth. I have sensitive teeth, especially when it comes to whitening them. I tried whitening strips and trays from the drugstore in the past, and they always made my teeth hurt. Plus, they never fit my teeth well. The strips were always too small, and the trays didn't feel comfortable. They were basically useless!
I'm happy to note that my teeth experienced very little sensitivity when using Smile Brilliant. The desensitizing gel is a life-saver!
CUSTOM WHITENING TRAYS
Luckily with Smile Brilliant, you're able to make your own custom trays. The kit comes with 2 pastes: base and catalyst. There are enough to make 3 molds (mix the pastes together), which will become blue. These molds will be used to make impressions of your teeth to create your trays. A mixture of paste will go into 2 blue trays, which you will use to insert in your mouth to get your teeth impressions (for both your bottom and top teeth). There is a third paste mixture that can be used if one of the molds needs redone.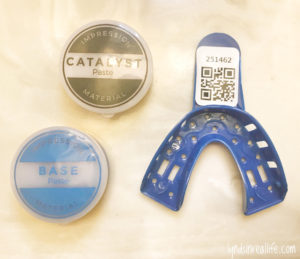 After creating your molds, you mail them back in the prepaid envelope. Your clear, custom trays will be sent back to you about a week later!
TEETH WHITENING
Before whitening, it's important to floss, and then brush your teeth with only water. Continue as follows:
Dry teeth as much as possible.
Apply thin layer of whitening gel to the top and bottom trays. Make sure it's directly in the middle along the front side.
Apply trays to teeth, trying not to smear the gel (it will cover the teeth on its own once pressed in).
Leave trays in anywhere from 45 minutes to 3 hours, depending on sensitivity. Start out at the 45 minute mark, and gradually work your way up.
Once the time is up, remove the trays and wash with water, then dry.
Brush your teeth as normal (with toothpaste).
If you have the kit with the desensitizing gel, apply the gel to the trays just like with the whitening gel.
Put on trays for 15-20 minutes.
Remove trays, spit out the excess gel (but don't get your teeth wet), wash off the trays with water, then dry. Put the trays in the container provided in the kit.
Don't eat or drink anything for at least 30 minutes.
It's recommended to whiten at night, right before bed. This way, you give your teeth more time to absorb the gels, giving you the best results!
I'm really excited to share my results; just look at this before and after photo!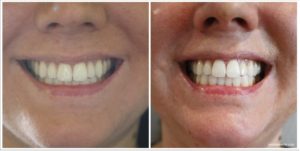 "From dental lab to your door. Our teeth whitening process is recommended by more dentists than any other procedure in America. We proudly produce our custom-fitted whitening trays right here in the United States for 70% less than your dentist and 3x to 5x faster. We ship worldwide & our customers trust our team's honesty and experience." (smilebrilliant.com)
Smile Brilliant has graciously offered to give away a free whitening kit (valued at $149) to one of my readers! Isn't that amazing?! Simply enter through the link below:
TERMS: Must submit name and email address on the giveaway page in order to enter! The winner will be selected and contacted via email 2 weeks after the post is live. Giveaway is for $149 credit and is open to USA, UK, Canada, and Australia. 
You can also get 10% off any Smile Brilliant purchase by using coupon code lyndsinreallife.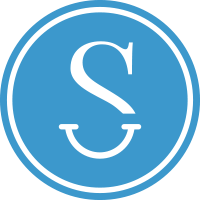 Thank you for reading, and thank you Smile Brilliant!
Please subscribe to new posts here:
[subscribe2]