A couple weeks ago, I looked in the mirror and decided I really, truly needed to make a change. I've gained a significant amount of weight in the past few years, and not only does it look terrible, but I FEEL terrible.  I'll admit, this was largely in part to my poor nutrition choices. Luckily there's FITzee Foods.
Disclosure: I received 14 meals from FITzee Foods in the hopes I would give an honest review on my blog. No monetary compensation was received. All opinions, as always, are 100% my own.

FITzee Foods is a company in San Diego, Calif. that offers fresh (never frozen) pre-packaged, pre-portioned meals. The food is made with all-natural ingredients, including 100% grass-fed beef, 100% free-range chicken, and nitrate + hormone free turkey. The meals (breakfast, lunch, dinner, and snacks) come in little plastic containers that you put in the microwave when it's time to eat. So simple!
What is a FITzee, you ask? As it states on their Facebook page,
"A FITzee is a busy professional, entrepreneur, mom, dad, athlete, weekend warrior, fitness enthusiast, and anyone else who seeks a nutritious, delicious, great-tasting alternative to the world of over-processed fast food. A FITzee believes that the path to living well is through eating foods that give you energy & taste great!"
Pictured: Red Chicken Enchiladas
The meals are seriously SO good. You can pick anything you want (and however many you want) if you order a la carte, or get a set amount if you order the meal plans or big boxes (but you still get to choose the meals). You also get to choose between small, medium, and large meals. I can't eat a lot at once, so the small and medium were perfect for me. I ordered lunches and dinners since I always have a shake for breakfast.
The meals I tried are as follows:
Red Chicken Enchiladas
Paleo Carne Asada Bowl
Paleo BBQ Pork with Sweet Potatoes and Creamy Spinach
Paleo Spaghetti
Grilled Steak Quesadilla
Paleo Thai Coconut Curry Chicken
Paleo Chicken Cauli Rice
My favorite meals were the red chicken enchiladas and the grilled steak quesadilla (pictured below). They're seriously AMAZING! And so filling. I liked the bbq pork, as well!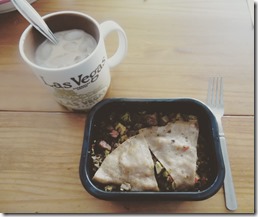 There are a lot of companies/services like FITzee Foods, so you're probably wondering, what makes FITzee Foods stand out? One thing that's great is that they ship anywhere in the US (and no subscription required!). I've tried a different service in this past, but if you don't live near their retail store, you can't get their meals. There's nothing really like FITzee Foods in Las Vegas, so I'm really excited that I can place an order online and have the food shipped to me within a week! It comes in a cooler box, and everything was cold when it arrived. I also like that they have so many Paleo, gluten-free, dairy-free options. I don't follow the Paleo diet, but I try not to consume too much dairy, wheat, soy, refined sugar, and so on. It's nice that it's pretty simple to pick meals that align with what I like to eat (or not eat).
Side note: There are also a few retail locations in San Diego where you can pick up your meals!
---
FITzee Foods is graciously offering a 15% discount for my readers! Visit www.fitzeefoods.com , use promo code lyndsinreallife15, and you'll get 15% off now through Oct. 31st!
---
I'm really enjoying the convenience of FITzee Foods, and the fact that the meals are incredibly healthy! It's helping me stay on track with my healthy, active lifestyle, and I am definitely a lifelong customer. Thank you FITzee Foods!
Follow FITzee Foods on Yelp, Facebook, Instagram, Twitter, Pinterest, and YouTube (+ their website).
Have you tried a service like FITzee Foods? If not, is it something you'd be interested in?

What types of foods would you like to see in a service like FITzee Foods?

Do you consider yourself a FITzee?
Thank you so much for reading! Subscribe below if you'd like to receive my new posts by email. 🙂
[subscribe2]