This post is sponsored by MERRITHEW™.
Being a fitness fanatic, I've always entertained the idea of getting an instructor certification. One of the things that has held me back, though, is knowing where and who to get that certification from. It's important to find a great studio with great instructors. I had the opportunity to take a one-hour Pilates trainer workshop using MERRITHEW's high-end equipment, at MERRITHEW licensed training center John Garey Fitness and Pilates in Long Beach, Calif. My instructor was Certified Personal Trainer (NASM) Jake Robinson, who's also a Registered Yoga Teacher by the Yoga Alliance and is also SpinPOWER certified.
MERRITHEW provides equipment and educational materials to the fitness world. Their brands are STOTT PILATES®, ZEN•GA®, CORE™, and Total Barre™. John Garey Fitness and Pilates uses all MERRITHEW equipment in their studio, including reformers, stability chairs, and barrels. MERRITHEW offered me the chance to take a workshop; considering they're considered the "Ivy League" of Pilates education, I couldn't wait to give it a try!
I met with Jake: a chef-turned-Pilates instructor who trains at John Garey. He was informative, helpful, and positive. It was obvious Jake really loves Pilates!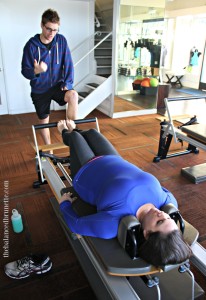 Next, we added ropes/resistance:
We spent most our time on the reformer, because there's seriously SO much you can do with it! It's a magical piece of equipment. What's great is that you don't really have to work hard to get serious results. I mean sure, the more you put into it, the more you get out of it, but I was definitely feeling the burn without breaking too much of a sweat!
We moved from the reformer to the Split-Pedal Stability Chair™. Jake said this is his favorite piece of equipment. I say this is my least favorite (haha). Here's why:
Jake had me step on the piece of wood that goes all the way to the floor. From there, I would use the handle bars to pull myself up (right photo). It's an amazing core workout! I thought after a few tries, I'd be done. But nope! Jake had me try to pull myself up without the handle bars (left photo). If there is anything that'll say, "you need to do more core work," it's this! Jake could pull himself up no problem, so it's obviously a very effective piece of equipment.
After spending some time with the Stability Chair™, we moved on to the Ladder Barrel.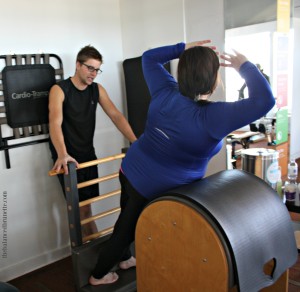 This was really fun! It really works the obliques. At first, I went side to side over the barrel. After that, I laid on the barrel (on my tummy) and did hundreds with my arms. Woo were my muscles feeling it!
The last piece of equipment was the Cadillac/Trapeze Table. Jake called it a "feel good" exercise. Here's what it looks like:
It's a great way to stretch your legs, hips, and obliques. After all the work we did, it felt really good to stretch those muscles! Stretching is a crucial part of any exercise routine. There's so many things that can be done on the Cadillac/Trapeze Table; it's amazing!
I learned so much about STOTT PILATES , MERRITHEW equipment, and tips for instruction during the one-hour session. I've always enjoyed Pilates, but I had never tried it using equipment (I've always done mat work). I cannot recommend John Garey Fitness and Pilates studio and MERRITHEW equipment enough!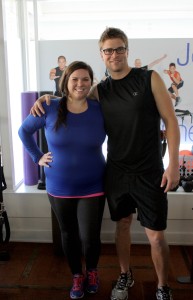 Jake & I after our Pilates session
To learn more about becoming a STOTT PILATES® instructor, visit merrithew.com. From there, you'll be able to contact an advisor.
To check out John Garey Fitness and Pilates, you can make an appointment/schedule a class by calling
(562) 598-8585 or visiting 6547 E. PACIFIC COAST HIGHWAY, LONG BEACH, CA 90803.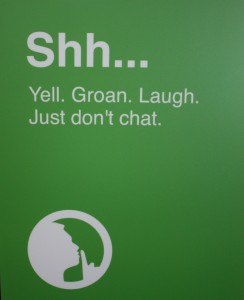 Have you ever used MERRITHEW equipment? What do you think of it?
Do you have an instructor certification? Where is it from and what kind of fitness?
Thank you for reading my blog!
[subscribe2]