If you follow me on social media, you'll know how much I love my dog Archie. He's pretty much my favorite thing in the world. If I have a chance to help him and his furry, four-legged friends, you best bet I'm going to!
Archie, my boyfriend, and I ran The Puppy Run 5k/10k a few months back, and Archie LOVED it! He loves running more than he loves toys, and he super loves toys. The Puppy Run was such a success that Gametiime decided to host the Doggy Dashers Virtual Run (Nov. 6-9) benefiting the Northwest Boxer Rescue (NWBR). NWBR's mission is, "Every boxer deserves to live a happy life in a loving home." Archie isn't a boxer (he's a toy poodle), but dogs are dogs, and we love them all!

Not only do you get to spend quality time with your pup, family, and/or kids, but you get to help doggies in need. Plus you get awesome swag! Check it out: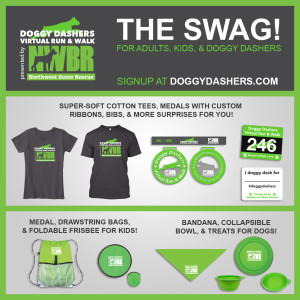 Awesome, right?!
Let's make it even more awesome with a discount code for 10% off your registration. Go to doggydashers.eventbrite.com and the code (lyndsay10) will already be applied! This discount is good for adult and kids registration. Registration is open from 8/25/15 to 10/9/15 or until they sell out.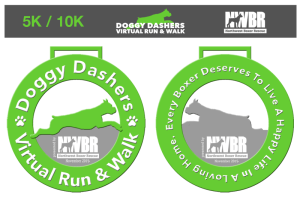 To register your dog, start the registration process for yourself. When you get to the page where you enter your personal details (name, address, date of birth, etc), scroll all the way down to the bottom. There, you'll see options for adding a dog registration(s). Click to add one or more to your cart before checking out.
*If you already finished registering, but forgot to add your kid and/or dog to your registration, send an email to info@doggydashers.com and they'll help you out.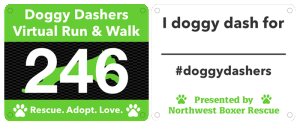 With registration you get:
Quality time with your pup
Family-friendly fun
The option to join or create a team

To register as a team, just select "create a team" when you register at doggydashers.com. It takes 2 minutes.
You can even set up this up before you register, so you can tell others to join it before you do.

Awesome swag

adults receive a super-soft custom shirt, bib, finisher's medal, and sticker
kids receive a drawstring bag, folder frisbee, bib, finisher' medal, and sticker
dogs receive a custom bandana, collapsible water bowl, and a doggy treat

Benefit animals in need (NWBR has foster homes in WA, OR, ID, MO, and CA)
I'll definitely be running the 5k with Arch and my boyfriend; be on the lookout for us!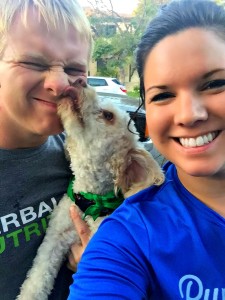 Follow Doggy Dashers on Facebook, Twitter, and Instagram for more info and updates!
[subscribe2]