Sharky's Woodfired Mexican Grill, a California company, is opening its doors to Las Vegas (Summerlin) Monday, May 8, 2017! Founder Steve Paperno wanted to combine the "variety of flavors he experienced traveling through Mexico with innovative recipes and his passion for healthy living." Sharky's uses fresh, natural, non-GMO, and organic ingredients, as well as antibiotic-free meats.
I had the opportunity to try Sharky's before they opened, and I've got to say, I am IMPRESSED!

I tried the California Tacos (2 taco plate) served with a side salad (pictured below).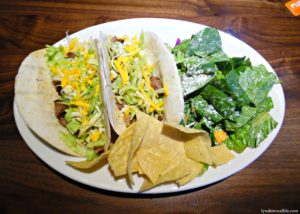 I also ordered the house-made red sangria. I've tried countless sangrias, and this one definitely takes the cake! I could taste how fresh it was.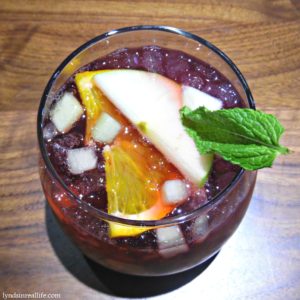 My boyfriend tried the half-size Sharky's Chicken Salad, and the California Tacos with avocado (2 taco plate). He gave me his mandarin oranges. 😉 This salad is so beautiful and colorful!
The lovely people at Sharky's make fresh juices, too. Lemonade, watermelon basil, and hibiscus. We tried the watermelon basil and the hibiscus. SO YUMMY!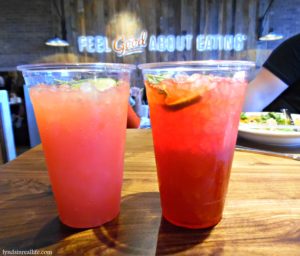 Watermelon Basil on left, hibiscus on right
I took a photo of the menu, but I'll admit, it's not the best photo! You can find the online menu here.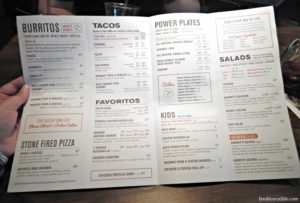 The atmosphere was perfect, for both casual and intimate dining. The lights are dim, but not so much that you can't see. There are booths, tables, and high tables. The ceiling is industrial-like (but the pretty kind), and the walls are wood. There's a huge window in the front which lets in great natural light (but not the glaring sun). There is an outdoor patio that's very nice as well!
Also, here's my cute date: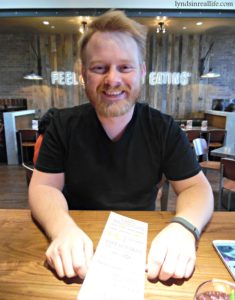 I recommend signing up for the Fin-Addict™ rewards program. You get points just for purchasing food and drinks (pre-tax)! The info on that program can be found here.
Don't forget to follow Sharky's on Facebook, Instagram, and Twitter (plus their website, www.sharkys.com)!
If you're not in the mood to dine-in, you can order online and take it to-go!
Sharky's Woodfired Mexican Grill
8975 W Charleston Blvd
Las Vegas, NV 89117
702.255.5605
---
What kind of ingredients do you look for in a quality restaurant?
Do you have a Sharky's restaurant near you? If so, have you visited?
What would be your favorite item on the menu?
Thank you for reading my blog!
To receive new posts in your inbox, please subscribe here:
[subscribe2]