Downtown Las Vegas is my absolute favorite place in Vegas. When people visit, they tend to think The Strip is the only place to eat, party, and experience Vegas culture. Personally, I'd skip The Strip for Downtown any day. Downtown, AKA Old Vegas, AKA Fremont St. is a mecca of art, entertainment, and most importantly, FOOD! Halloween weekend, I joined my favorite ladies from Vegas Lifestyle Influencers for a Spooky Soirée Brunch at 7th & Carson (and yes, we all dressed in costume!). 7th & Carson is a brand new restaurant located on Carson Ave in DTLV, and it is AMAZE.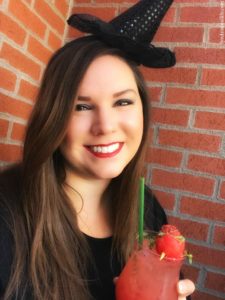 The girls from Vegas Lifestyle Influencers and I were greeted with Hot Melon cocktails by owner Liam Dwyer (incredibly nice and knowledgeable guy). The Hot Melon consists of Jalapeño Tequila, Fresh Watermelon, Mint, and Cracked Pepper. It was created by Liquid Chef Oscar Takahashi, and was SO delicious!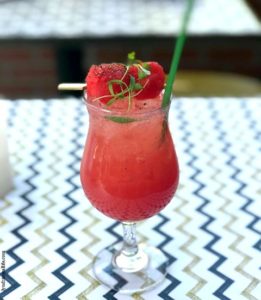 We were then seated inside 7th & Carson, which was quaint, casual, and trendy. I especially loved the different patterns on each table, and the exposed ventilation on the ceiling.
We were ready to experience some of the unique brunch options, created by Chef Gregg Fortunato! First on the list: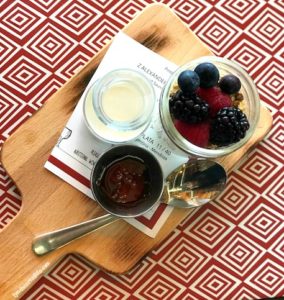 YOGURT PARFAIT
Toasted Granola, Seasonal Berries, Local Honey
The cream was a nice addition to the parfait. At first, it seemed unnecessary. But then I mixed it with the yogurt, and it added a nice touch of flavor! Next, we tried: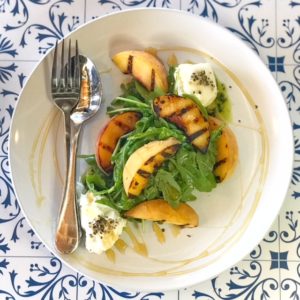 GRILLED PEACH + BURRATA
Arugula, Black Pepper Honey, Basil Pesto
The grilled peach + burrata salad was probably my favorite! I'm not much of a salad eater, mainly because they usually taste plain. However, this salad was full of yummy flavors and textures. I'd never had burrata before, but I definitely love it! The touch of honey made it perfect. Then we had: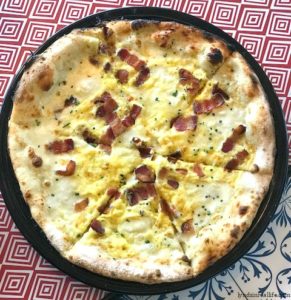 BREAKFAST PIZZETTA
Scrambled Egg, Bacon, Fresh Mozzarella
I wasn't sure how I felt about scrambled eggs on pizza, but now I realize I have been missing out my entire life! This breakfast pizzetta was so delicious, I ate at least 2 pieces. Up next: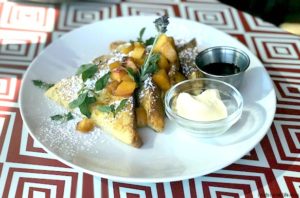 BRIOCHE FRENCH TOAST
Whipped Butter, Peaches, Lavender Syrup
Aside from the grilled peach and burrata salad, the Brioche French Toast is my favorite! The peaches, lavender syrup, and mint leaves created a unique and mouthwatering taste. I can't wait to go back for more! Then we tried: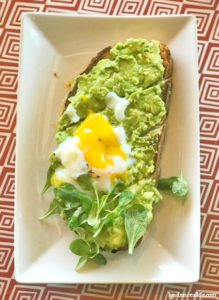 AVOCADO TOAST
Sourdough, Avocado, 63° Egg
This is not your average avocado toast. The fresh avocado with the 63° egg was light, yet fulfilling. I could order 100 of these and be happy! Lastly, we tried: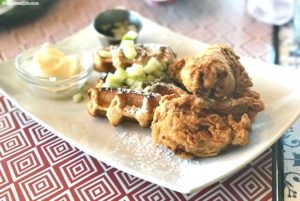 CHICKEN + WAFFLES
Apple Waffle, House Fried Chicken,
Bourbon Syrup
Who doesn't love chicken and waffles?! It's such a weird, but perfect combination. The chicken was crispy, the apple waffles were the best I've ever had, and the diced apples paired perfectly with the dish. The bourbon syrup was to die for!
I was so pleased with our brunch at 7th & Carson. I can't wait to take my boyfriend; I've been raving about it for weeks. I also really want to try their lunch and dinner menu!
Thank you 7th & Carson for the preview and sampling of your brunch menu! I had the best time, and will be back soon!

The beautiful ladies from Vegas Lifestyle Influencers ♥ [I'm hidden in the back, to the right]
I'd also like to thank the wonderful sponsors for making this soirée possible!

---
7th & Carson
616 E. Carson #110
Las Vegas, NV 89101
702.868.3355
THURSDAY TO MONDAY: 11:00 AM – 11:00 PM
---
What's your favorite brunch item?

What's your drink of choice during brunch? Answer in the comments below!
Thank you for reading! To receive new posts by email, please subscribe below:
[subscribe2]