This post is sponsored and contains affiliate links.
I moved to Las Vegas, NV a little over a year ago, and I've grown to love this city and all its art. I found a poster of the city of Las Vegas through ModernMapArt (aff. link) and I had to have it!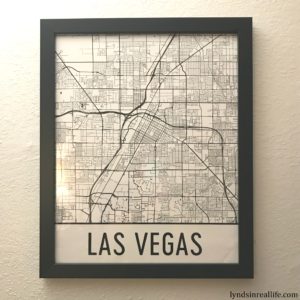 This Las Vegas poster shows thousands of streets in Las Vegas, with the different widths representing the sizes of the roads. It's printed on museum-quality, thick, matte paper and uses UltraChrome ink. The poster is also fingerprint resistant. You can get it in white or red!
I framed my 16×20″ white print and hung it above my TV in my living room. It's the perfect focal point!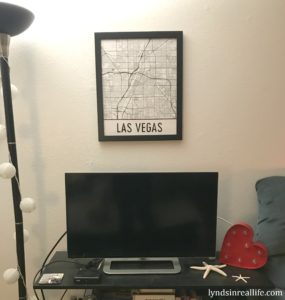 This print comes in multiple sizes: 8×10, 12×18, 16×20, 18×24, and 24×36. The price ranges from $29.99 USD to $79.99 USD, depending on the size.
I highly recommend this print for all Las Vegas lovers! It's a great gift, whether it's Father's Day, a birthday, or Christmas.
You can get your Vegas poster here.  It takes about 3-5 days to process and another 3-5 days to ship if in the US (ships worldwide, though!). It does not come with a frame, but I got mine on Amazon (aff. link) for about $15 and it fits perfectly!
Thanks for reading my blog! Subscribe below to receive updates:
[subscribe2]