Happy Tuesday! This month, I am the head blogger for the SoCal Blogger Society link up. Check out the bloggers participating below, and link up with us if you'd like!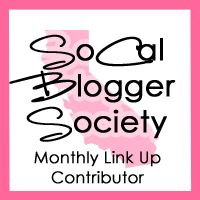 Since Thanksgiving is this week, I would like to share who and what I am thankful for.
My Parents
My mom and dad live in Ohio- 2300 miles away from me (LA). It's hard being so far away from them, but they do everything they can to make sure I know I'm loved. Whether it's helping me pay my rent, sending me essential oils to help my immune system, or sending a text to check up on me, my parents are there giving me support. I look up to them so much, and I'm thankful to have such smart, loving parents!
Archie
Puppies are the best anti-depressants. Ever. No matter how much I'm feeling down, Archie is always there to lick my tears and give me snuggles. He loves unconditionally, and he is a little ball of happiness. Plus, he's just so dang cute!
Tim
My boyfriend, Tim, is my partner-in-crime. We've been best friends for 20+ years. We've been dating for exactly 2 years. We laugh EVERY day. Tim is my backbone; my support system. He loves me for me, and encourages me to live the life I want. I'm thankful to have a partner who truly makes me a better person.
California Weather
It may be silly, but I am incredibly thankful for the weather in SoCal. The abundant sunshine helps my bipolar and seasonal affective disorder bearable in the winter. Even when it's cloudy and in the 60s, I love the weather. Like, LOVE it. 68 & sunny is my perfect day, and that happens pretty often this time of year. Plus I live 6 miles from the ocean. It's perfect!
What are you thankful for this holiday season?
I invite you to link up with us below!
XO
Lyndsay