When I was an audiology student, we often talked about head/ear phones and how they're pretty bad for your hearing. They often cause hearing loss (because the loud sound is too close to your ear drum). One rule of thumb is that you should always be able to hear the people around you. If you can't, your headphones are too loud. So naturally, when I heard about AfterShokz bone conduction open ear headphones, I was pretty ecstatic to use them! Especially learning about their #AwareWithPink campaign (read below for more!).
---
Disclosure: As a #SweatPink ambassador with Fit Approach, in partnership with AfterShokz and its #AwareWithPink campaign, I received a pair of Trekz Titanium Pink headphones (and case). No monetary compensation was received. As always, all opinions are 100% my own. Some images courtesy of AfterShokz.
---
AfterShokz's Trekz Titanium Pink headphones, initially developed for military special operations and law enforcement company Voxtech in 2001, use bone conduction, meaning the ear pieces sit on the cheekbone right in front of the ear (the transducer), not IN your ear. The frame should loop over the ears, with the band resting behind the head, close to the neck. We are able to still hear the sound this way because all sound is are vibrations at different frequencies and wavelengths that travel through our ear to our brain. While the most popular way to hear sound is through our ears directly, bone conduction works just as well! #BeOpen #HearItAll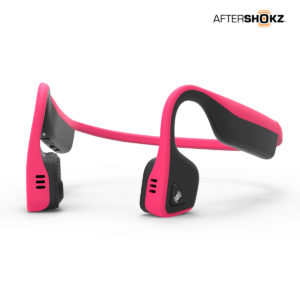 What's really cool about using bone conduction headphones is that it leaves our ear canals completely open. This means we are still able to hear everything going on around us! I can have music playing through my headphones, and still have a conversation with my boyfriend. I can hear him clear as day. The most  important aspect of this, however, is that when I'm outside walking or doing yoga, I can hear what's happened around me. If someone is coming up behind me, I can hear them. If there are sirens, I can be aware. If someone is trying to get my attention, I'm not oblivious (and I don't look like a jerk). Being able to hear what's happening around us makes  us, and using headphones, much safer! Pretty amazing, right?!
Trekz Titanium Pink are IP55 rated – which technically means you can hose them down and they'll survive. Don't go swimming with them, but rain and excessive sweat won't do damage!
The headphones are wireless and work through Bluetooth®. Everything is controlled through the buttons on the headphones. The power, volume, play, pause, skipping songs, and phone calls. The sound is incredibly clear and sharp. Also, the battery stays charged for 6+ hours!
#AwareWithPink
The limited edition Trekz Titanium Pink not only help you be more aware of your surroundings, but also aware of breast and ovarian cancer. How, you ask? Well, for every unit sold through October 31st, AfterShokz will donate 25% of proceeds to Bright Pink – a non-profit that focuses on breast and ovarian cancer awareness and education! We're making a difference by being #AwareWithPink. Every time #AwareWithPink is used on Facebook, Twitter or Instagram, AfterShokz will donate an additional 25 cents to Bright Pink to extend the awareness.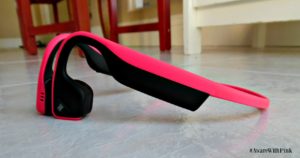 I'm pretty passionate about women's cancer awareness and education; I was diagnosed with cervical cancer in 2009 (two days before my 21st birthday). While cervical cancer is not part of this campaign (it's often non-fatal), I believe that awareness of any type of women's cancer brings awareness to all cancers. That's why being #AwareWithPink and spreading the word is really important to me.
Find out how you can help at awarewithpink,aftershokz.com.
Instagram Challenge
AfterShokz and Fit Approach are hosting an Instagram challenge during the month of October (the 1st through 31st). Follow AfterShokz, Fit Approach, and myself on Instagram for more details as we get closer!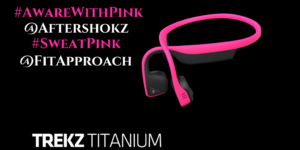 Get A Free Trekz Titanium Case
AfterShokz will send a hard storage case as an additional gift for every purchase of Trekz Titanium Pink to my readers and followers (and everyone in the Fit Approach community). Add the small portable storage case to your cart, and use code PinkGift at checkout to grab yours for FREE!
---
To get updates, deals, and follow along (& join!) the #AwareWithPink campaign, follow AfterShokz on Facebook, Instagram, Twitter, YouTube, and their website.
Have you ever used bone conduction headphones?
What are the most important factors when purchasing headphones?
Don't forget to follow me on Instagram for more details about the #AwareWithPink Instagram challenge, starting October 1st!
Thank you so much for reading!
Facebook | Instagram | Twitter