I'm joining prAna and Sweat Pink for a super fun, #7daystretch #liveinprana challenge – it started Monday, August 24th and ends Sunday, August 30th (we're already halfway through, sorry about that!). Join in on the fun – answering daily prompts (see below) – or if you'd prefer to lurk, you can follow along on FitApproach or through the hashtags: #liveinprana #7daystretch #sweatpink!
We'll be talking about how we (the community) embrace a prAna lifestyle (#liveinprana) and are challenging ourselves to stretch a little deeper, farther and more mindfully for 7 whole days (the #7daystretch). And we're not just stretching our bodies so you don't have to be pretzel to join in, we're also stretching our minds and souls!
We're nearing the end of August and even though the summer is coming to an end, I'm super excited about the Fall because the air is cooler and crispier.  In fact, my very favorite thing about Fall is the new fall fashion. I can imagine myself wearing the Bourke Top from prAna while I walk my dog along the beach!
If I had one goal for the Fall, it would be to become more flexible because I want to do more challenging yoga poses. To achieve it, I know I will need dedication and patience. And of course I want to look great doing it so I have the Maison Legging from prAna on my wish-list…..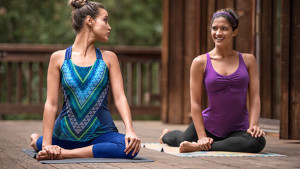 Don't forget, we all get 15% off everything at

prAna

.com with code:
LiveInprAnaF15
What are you most excited about for Fall?
Join us for the #liveinprana #7daystretch. Here are the daily prompts to get you started!
Monday, August 24th:

 It's Monday, make sure you get up and stretch 'dem legs! Show us your favorite quad and / or hamdstring stretch(es)! #7daystretch #liveinprana #sweatpink @FitApproach @prAna
Bonus: We want to see you JUMP it out. Give us your BEST #jumpjoymonday! #7daystretch #liveinprana #sweatpink @FitApproach @prAna
Tuesday, August 25th:

Backbends. Any backbends. All backbends. Show us how you get bendy! #7daystretch #liveinprana #sweatpink @FitApproach @prAna

Bonus: It's #transformationtuesday y'all, whether you're bendier than you used to be, more adventurous, or even faster, we want to see! #7daystretch #liveinprana #sweatpink @FitApproach @prAna

Wednesday, August 26th:

It's our mid-week stretch it out, show us what's getting you through your hump day? #7daystretch #liveinprana #sweatpink @FitApproach @prAna
Bonus: It's #workoutitwednesday. Show us how you worked it today! #7daystretch #liveinprana #sweatpink @FitApproach @prAna
Thursday, August 27th:

Show us a #tbt to a time when you stretched outside of your comfort zone. #7daystretch #liveinprana #sweatpink @FitApproach @prAna
Bonus: Show us your favorite stretchy pants (shorts work too)  #7daystretch #liveinprana #sweatpink @FitApproach @prAna
Friday, August 28th:  

Happy #freefriday y'all! We want to see what  makes you feel the most FREE?  7daystretch #liveinprana #sweatpink @FitApproach @prAna
Bonus: Show us how you are celebrating #forearmfriday! Forearm planks, dolphin pose, forearm stands or maybe just forearms on the table? 😉 #7daystretch #liveinprana #sweatpink @FitApproach @prAna
Saturday, August 29th:

Saturday side stretch! Show us your fave side stretch(es!) #7daystretch #liveinprana #sweatpink @FitApproach @prAna
Bonus: #sunsalutesaturday. Show us how you are saluting the sun today! #7daystretch #

liveinprana

#sweatpink @FitApproach @

prAna
Sunday, August 30th

: What are your favorite ways to restore your mind, body, & soul? #7daystretch #

liveinprana

#sweatpink @FitApproach @

prAna

Bonus: Show us your favorite zen space. Where do you find peace & tranquility? #7daystretch #

liveinprana

#sweatpink @FitApproach @

prAna

#sundayzenday
Follow me on Instagram to see my posts, and I will follow back! @thebalancedbrunette
Twitter: @balancebrunette
Facebook: @thebalancedbrunette
Don't forget, we all get 15% off everything at

prAna

.com with code:
LiveInprAnaF15
[subscribe2]