This post is sponsored by prAna and Fit Approach. All opinions are my own.
When I was in my early 20s, my favorite outfit to wear was jeans, a sleek tank, and heels. I wore gobs of makeup, made sure my hair was perfect each day, and was obsessed with designer labels. My love for these labels did not come from actually loving the designers; it was because my friends loved the designers and I wanted to be cool. I was the girl who cared more about beauty than comfort. I remember my going-away party when I was 24 (before my move from Cleveland to Los Angeles): it was 20°F outside, ice everywhere, cold as could be, and I was wearing bright red, 5 inch heels.
To that I say -_-
Now I'm in my late 20s, and a few things have changed. My days consist of meditation, yoga, nannying, and lounging/Netflixing. Heels and jeans are the LAST things I need. However, one thing has remained the same: the label. While I didn't understand the quality of designer brands when I was younger, I've now learned to appreciate quality brands. One of those brands is prAna.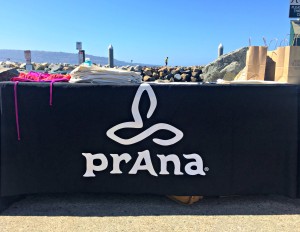 PrAna, meaning breath or universal life force, is an eco-conscious, sustainable, organic clothing company whose mission is to inspire healthy, active, free-spirited living. The clothes are incredibly comfortable, versatile, and chic. I love that I can wear any of the pieces practically anywhere! As I type this post, I'm wearing the Maison Leggings in plum baleen. Last night, I went to a taping and dinner with friends wearing my black Gabi Leggings. I wear my black Lahiri swimsuit when I go to the beach/pool with the girl I nanny (and I can't forget my prAna chapstick!). I live in prAna every single day.
To celebrate how I #LiveInPrana, I joined the #sweatpink #7daystretch campaign with prAna and Fit Approach on Instagram! For 7 days, #sweatpinkers, yogis, climbers, and adventure enthusiasts posted how they lived in prAna. I received four items from prAna for this campaign.
These are my 7 posts for the #7daystretch (which you can find on my Instagram @thebalancedbrunette):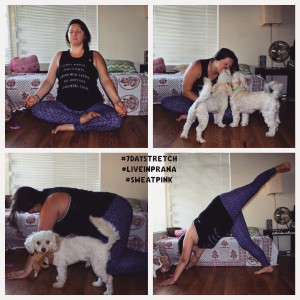 A few other ways I #LiveInPrana:
My favorite pieces are the Bourke Top, Marin Pullover, Dreaming Top, Misty Legging, and Gabi Legging.
Are you loving these prAna outfits as much as I do?! Because there's great news: prAna is having a SALE! 40-50% off past season items (some of the pieces are fall/winter and do not qualify), which you can find here.
You can find prAna on their website, Facebook, Twitter, Instagram, and Pinterest.
How do you live in prAna?
Which pieces are your favorite?
Thank you for reading! If you like what you read, please subscribe here:
[subscribe2]