This post is sponsored by Thrive™ Algae. All opinions are my own.
Did you know, heart disease is the leading cause of death in the United States? It's crucial that we supplement those high (bad) fats hidden in our food. There's been a long time debate between olive oil and coconut oil (which one is healthier; better for your heart?). Olive oil is better for your heart, but still contains 2g of saturated fat. Luckily, there's a new oil in town: Thrive™ Algae Oil.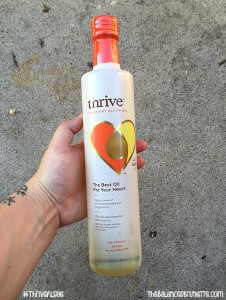 Thrive™ Culinary Algae Oil contains only .5g of saturated fat (75% less than olive oil) and has the highest level of monounsaturated fat (the good fat). Cooking with algae oil also makes foods even more delicious. It has a light and delicate taste that lets the flavor of food shine through, and you get to taste the earthy, natural flavor of your ingredients, without heaviness or greasiness. I was worried it would taste like the ocean (I don't like seafood), but it doesn't at all. I don't like the smell of olive oil, and my boyfriend strongly dislikes the taste of coconut oil, so algae oil is perfect! Plus, you can use it for literally any type of cooking. Up until now, an oil low in saturated fats, high in the good fats, that could also be used for frying and high-heat cooking was pretty much unheard of. Now, fried foods, crispy sautéed foods, baked goods, etc. all can be made better.
I decided to use Thrive™ algae oil for dinner this past evening. I'm a pretty picky eater, so I wanted to make something that was quick and delicious. I decided to make chicken parmesan (without the breading) and green beans with sliced almonds.
Follow the steps below to create your yummy chicken parm made with Thrive!
First, I poured 1 tbsp of algae oil in the pan, then added the chicken. I used fully cooked chicken, because that's usually the kind we have in our freezer. 😉 You can use raw chicken, but I recommend baking it in the oven so it cooks thoroughly.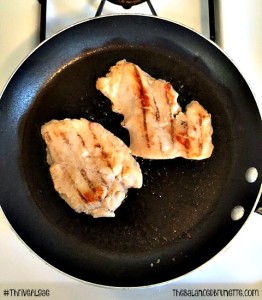 I LOVED using the algae oil. It covered the entire pan without forming a puddle (what olive oil tends to do for me), it barely had a smell, and it didn't burn up! When cooking with olive oil, it tends to disappear or burn a bit. Nothing like that happened with the algae oil.
After the chicken was cooked, I added a bit of marinara sauce and provolone cheese to the chicken while still in the pan.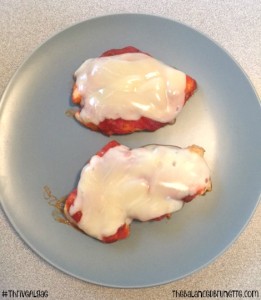 I also sauteed green beans with sliced almonds and a pinch of salt using the algae oil. They were SO delicious; definitely the best I've ever had! Plus, it only took me about 15 minutes to make this meal. Perfect for busy, on-the-go parents, students, or even those who dislike cooking.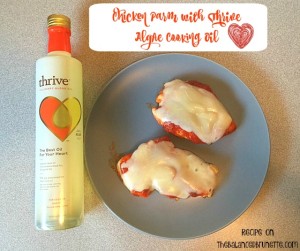 Right now, Thrive™ algae oil is only available in Los Angeles (at Gelson's), as it's a brand new product. However, you can place an order online here (ships within 5-7 business days). I highly recommend ordering a bottle (or two!) for yourself and your family; you won't be disappointed!
Stay connected with Thrive™ Algae on social media for updates, recipes, and more: Facebook, Twitter, Instagram.
What kind of cooking oil do you use/prefer?
What is your favorite dish using oil?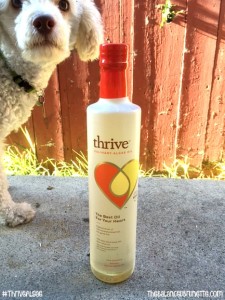 Even my pup, Archie is intrigued! 😉
Thank you for reading! For more posts, please subscribe to my blog here:
[subscribe2]