This Friday, I'm joining Fit Approach and AfterShokz for a Friday Five: five things about me, all related to sweating hard, inspiring harder, and raising awareness about breast and ovarian cancer. This entire month of October, I am #AwareWithPink! Share how you're #AwareWithPink in a blog post for a chance to win a pair of PINK Trekz Titanium headphones.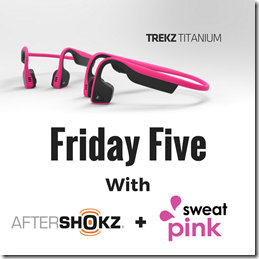 1. Tunes that inspire! My 3 favorite pump-up songs to listen to while I workout are: Last Nite by The Strokes, Pursuit of Happiness by Kid Cudi, and Afraid by The Neighborhood. I LOVE my AfterShokz PINK Trekz Titanium headphones while I sweat because they keep me aware (and #AwareWithPink) of my surroundings. I can hear what's going on; whether it be traffic, someone passing me, or sirens. It's also awesome how 25% of the proceeds of these headphones go to Bright Pink, in honor of Breast Cancer Awareness Month!
2. Give back!? I empower myself and others throughout #BCA month by running and raising money for If Girls Ran The World. I'm spreading awareness of breast and ovarian cancer (and also cervical, since I had it in 2009) this October. I'm sharing about the importance of getting regular mammograms and tests. Help me fundraise for the Susan G. Komen foundation by donating here! (Thank you!)
3. Be a self care advocate:  I'm a huge advocate for self-care. I really started to recognize the importance of it when I began volunteering for International Bipolar Foundation. It's important to take time to ourselves, whether it's meditation (which is so amazing), yoga (my favorite form of exercise!), therapy, going on walks, taking a nice bubble bath, or leaving a toxic relationship. It's our responsibility to take care of ourselves!
4. Inspiring threads!  What are my favorite products/apparel that empower me to get sweaty + strong? Oh, I have SO many!
My favorite tops: these prAna tops:
My favorite leggings: Katie K Active's Rushhour Capris (they're on sale right now, too! – use code Lyndsay25 for an extra 25% off and free shipping)
My favorite products: Of course, AfterShok'z PINK Trekz Titanium headphones:
Also, The WACOAL Awareness Bra, partnered with Susan G. Komen. WACOAL will donate $2 for every bra purchased this month! More info here.
5. Friends who inspire!  Someone who inspires me to live a happy, healthy life is my friend Rita. We met about 2 years ago in LA (our dogs became best friends, and so did we!), and we're pretty much the same person. What's awesome about Rita is that she is always inspiring me and empowering me to be great. She supports me when I need to lose weight, when I need adult advice (she's a year older than me, but she's so smart!), and any time I need a shoulder to cry on. We live far apart now (she's in San Diego and I'm in Las Vegas), but she's pretty much the greatest friend ever, so the distance doesn't matter. Thank you Rita for being such a rock in my life!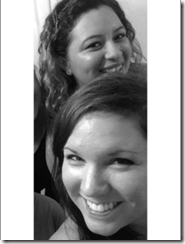 Disclaimer: This post was sponsored by AfterShokz in an effort to spread awareness about their new Pink Trekz headphones, in partnership with Bright Pink to support and spread awareness around breast cancer awareness. All opinions and words are my own. I truly appreciate all of the brands the support the Sweat Pink community.
 Thank you for reading!
[subscribe2]
Facebook | Instagram | Twitter