This post is sponsored by Great Lakes Gelatin and Fit Approach.
Every new year, I tell myself I'm going to get in shape and get healthy. Well, 2018 is definitely the year!
I have a few things on my side for a healthy 2018: I'm running (and training for my first half marathon), I'm eating healthier (and eating for MY body), and I've started using Great Lakes Gelatin® collagen hydrolysate.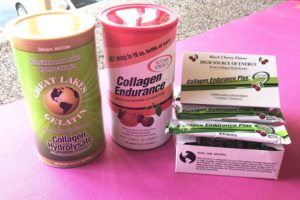 What is Collagen Hydrolysate?
"Hydrolyzed Collagen is a unique protein devised of a combination of amino acids. It is the nutritional link in supplying amino acids like glycine, proline and lysine that are required by the body to build connective tissue. Science says that up to 30% of all the protein in the body is collagen and up to 70% of the proteins in the connective tissues are composed of collagen." – Great Lakes Gelatin® website.
I recently learned that these amino acids are important because our bodies can't produce as much connective tissue after age 25. Well, I'm about to turn 30, so I very clearly need to take collagen!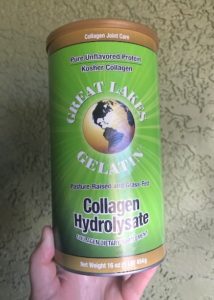 Collagen has been and will continue to support my half marathon training. It promotes growth in our muscles, cartilage, ligaments, and blood cells. There's a huge difference in my running and recovery since taking collagen. I love it! My mile time is getting shorter, and I'm not in as much pain as I previously was. The collagen hydrolysate has been perfect. It's odorless and tasteless, plus soluble in hot and cold liquids, so I mix it in my coffee. And I never have to worry about not having collagen, because it comes in easy to-go packets!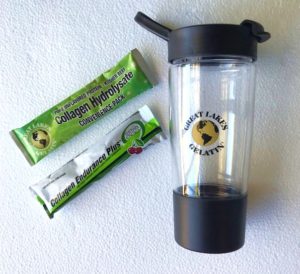 I've also been cooking healthier dishes! I'm excited to spend the year trying out recipes and coming up with fun food ideas. I'm also getting back into green smoothies/juices. I found a great recipe for a green smoothie on the GLG website: the LEAN AND GREEN SHAKE WITH GREAT LAKES GELATIN® COLLAGEN HYDROLYSATE.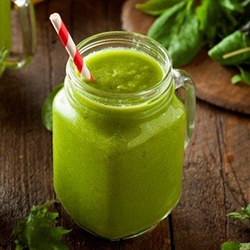 Getting healthy in 2018 is really important to me. Like I mentioned before, I'm turning 30 this year. Eek! I can definitely feel my body aging, and it's not only frustrating, but also very eye-opening. I've realized that I need to take my health seriously. By using GLG collagen, I'm taking the necessary steps to be my healthiest yet!
Check out my Facebook Live review + how GLG is helping me reach my 2018 goals here!

I can't forget to mention GLG Collagen Endurance. Collagen Endurance provides amino acids, vitamin B's, natural flavor, and colors. They are used in a variety of necessary cell reactions and can be metabolized to provide energy! I love the product not only because it gives me a boost of energy (that I desperately need), but it also tastes amazing!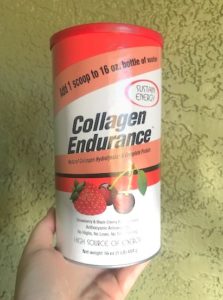 Great Lakes Gelatin®, in partnership with Fit Approach, is graciously offering a 20% discount on GLG products! Simply enter code GLGLife20 at checkout. This code expires March 15, 2018.
Follow GLG on Facebook, Instagram, and Twitter.
How would you incorporate collagen into your daily routine?
What would you use collagen for?
---
LEAN AND GREEN SHAKE WITH GREAT LAKES GELATIN® COLLAGEN HYDROLYSATE
Ingredients
2 Tbsp. Great Lakes Gelatin® Collagen Hydrolysate

1 tsp. Natural Vanilla flavoring

1/4 small avocado

2 cups baby spinach

1 Tbsp. raw almond butter

1/8 tsp. ground cinnamon

8-10 ounces unsweetened almond, coconut or cashew milk

5-6 ice cubes
Directions
Combine the Great Lakes Gelatin® Collagen Hydrolysate, fiber blend, avocado, spinach, almond butter, cinnamon, milk.

Mix on high until smooth.

Add ice cubes.

Mix on high until smooth.

Thin with additional cold water, if desired.
---
#LifewithGLG #GLGtheOriginalCollagen #GreatLakesGelatin #sweatpink #sweatpinkpartner
Thank you for reading!
[subscribe2]
Facebook | Instagram | Twitter