Disclosure: As part of my #sweatpink ambassadorship with Fit Approach, participating in the Amazing Grass campaign, I received a full-size Amazing Grass protein superfood canister and monetary compensation. All opinions are my own.
 I try to be active and #FeelAmazingEveryday, even in the Las Vegas heat. I really enjoy yoga and Pilates, and running in the evening (after the sun goes down). Now that I have a pool at my apartment complex, I've taken on swimming. I love it!
I like to wake up every day and throw on my prAna bathing suit. Then I make my Amazing Grass smoothie. I need to make sure I get all the fuel and energy I can before swimming; it takes a lot out of me, and if I don't fuel myself properly (or hydrate!), it's easy to get dizzy, pass out, or even suffer from heat exhaustion.
I've tried numerous protein powders in the past, but none like Amazing Grass. What makes it so different? Here's a few reasons:
AG is a protein superfood: 20g of plant-based protein with greens, fruits, and veggies (with only 110 calories per serving).
Superfoods are nutrient-rich foods high in antioxidants, polyphenols, vitamins, and minerals, and are considered to be especially beneficial for health and well-being (health.com).
AG is USDA organic.
AG is non-GMO.
AG is gluten-free.
AG contains no added sugar.
AG contains 7 alkalizing greens (wheat grass, barley grass, alfalfa, spirulina, chlorella, broccoli, &spinach).
AG contains pea, chia, quinoa, & hemp protein, making it plant-based and vegan.
AG contains fruit & veggies such as beet, carrot, sweet potato, goji, acai, banana, & more.
AG is made in the United States, with select ingredients carefully curated from around the world.
Amazing Grass makes it super easy to get all the nutrients I need to fuel my body throughout the day. Breakfast is the most important meal of the day, right? So why not have a breakfast full of protein, fruits, veggies, fiber, vitamins, and minerals?
I like Amazing Grass, but it's important to note that since it contains superfoods, it has a bit of a plant taste. The powder I received is vanilla flavored, and you can definitely taste the vanilla, but the superfood taste stands out. It's a different taste than powders with soy or whey protein, but Amazing Grass powder has so many superfoods (and is vegan), so it's to be expected! The benefits definitely outweigh the plant taste.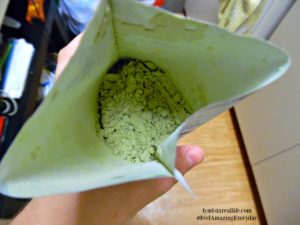 Amazing Grass and Fit Approach have teamed up to offer a canister of Amazing Grass protein powder to one lucky person! I am hosting a giveaway (below), and whoever wins gets a canister of Amazing Grass in the flavor of their choice (original, vanilla, or chocolate peanut butter)! Residents of the US; 18 & older only.*
For those who don't win the giveaway, or if you're really excited to try it out before the giveaway ends, all my readers/followers get 40% off by entering 40SWEATPINK2 at AmazingGrass.com! (By the way, aside from full canisters, they also have single shake packets!)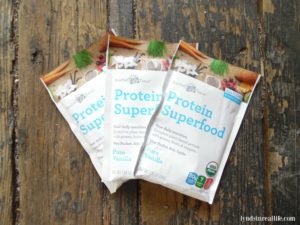 To receive updates, info, deals and more, visit Amazing Grass' website and follow them on Facebook, Instagram, Twitter, Pinterest, and YouTube.
Have you tried Amazing Grass before? What's your favorite thing about it?
What do you look for when choosing a protein powder?
Thank you so much for reading! You can subscribe to my blog here:
[subscribe2]
Instagram | Facebook | Twitter