Yoga? Wine? Charity? COUNT ME IN!
Last Wednesday, I attended Vinyasa to Vino: a yoga event hosted by Grip the Mat. The event took place inside C.A.V.E. Gallery in Venice, Calif., and as a one hour yoga session followed by wine tasting. AMAZING, right?! I attended the event on behalf of Time Out LA. The event was sponsored by Sweaty Betty, Beaming, and JustChill Drink.
How beautiful is the C.A.V.E. Gallery?! :: Please pardon my blurry photos; my iPhone camera is broken!
Grip the Mat is a group of half-selected yoga instructors that hold yoga sessions in various, unique locations. After the one-hour yoga session, the bar opens. This includes anything from locally-made juices, to wine, to champagne. They are located in DC, Boston, and LA.
We did a one-hour Vinyasa flow taught by Ben and Ari (wonderful, energetic instructors!), which consisted of a half hour sweaty sesh, followed by a half hour cool down. Afterward, we had a social hour and a wine tasting with ONEHOPE Wine. ONEHOPE Wine is a lifestyle brand with a world-class vineyard in Napa, Calif. They give back to the community through their brand. For Vinyasa to Vino, we sampled four wines, each of them giving back to different organizations. The wines we tried + organizations they benefit were: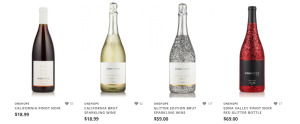 A few bottles of ONEHOPE Wine; image courtesy of onehopewine.com
Light bites were also offered from sponsor Beaming. We had the opportunity to try banana bread and cookies made with Beaming's superfood protein blend. We also got to try their green juice and a lemon/ginger juice. They were so good! I'll admit, I took two pieces of the banana bread and two of the green juices. 😉
During the wine tasting, there was a raffle! There was one winner of the grand prize, and then six winners of an outfit from sponsor Sweaty Betty (a British activewear company that opened a store on Abbot Kinney in Venice). I was one of the lucky winners of the Sweaty Betty outfits! (I'm so excited to choose my outfit; thank you!)
I had such an awesome time! It was a great workout (I was sore for two days!), and the wine + food were really yummy. All guests even got a swag bag, complete with tea, chocolate, a coupon for a spa day, a Sweaty Betty water bottle, and more!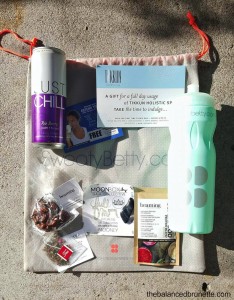 I highly recommend attending any Grip the Mat events in your area (again, DC, Boston, and LA only). You can find events and get tickets on gripthemat.com (the next Vinyasa to Vino in LA is April 27th fyi!).
Thank you for reading!
[subscribe2]