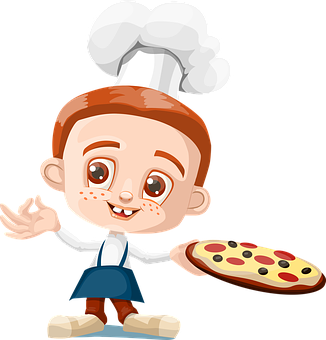 https://pixabay.com/illustrations/cook-boy-kid-pizza-holding-1773658/
Kids' kitchens have been popular amongst children for many years now. The reason for this is that the majority of kids seem to love role playing toys. They love the chance to let their imagination run wild – they can be whoever they want to be and make up different scenarios, too!

The reason why kids' kitchens, in particular, seem to be a good role playing option is that children see their parents cooking on a daily basis, and they want to join in, too. They want to feel like they can do whatever you do, and a kid's kitchen allows them to do so.

If your child already has a kitchen, then the fun doesn't have to end there. There are some fantastic accessory kits and kitchen sets that are available to utilize alongside their favorite toy. Make sure you choose with care. Any personal injury attorney will tell you that child injuries can often suffer because of unsuitable toys. Take a look at our list for the top kids' kitchens accessory sets available today!

KidKraft Wooden Pastel Baking Set

This wooden baking set is simply adorable. It features a color scheme of pale pink, baby blue, and sherbet lemon – making it a great toy for any kid who loves those colors! The accessories that you can expect to find with this set are as follows; a rolling pin, mixers which lift in and out of the mixing bowl, cooking pan, two chocolate chip biscuits, a spatula, a measuring spoon, and a rolling pan. Furthermore, it is also worth noting that this baking set is suitable for children age three and up.

Tidlo Kitchenware Set

This set is perfect if you are looking for a starter kit for your child, as it provides all the essential tools needed for cooking up a storm – a great way to teach them about healthy cooking. The style of the pieces included in this set feature stainless style effect options, as well as blue and white decorated pieces. The design is so that the necessities look like they could be utilized in a real kitchen. The pieces included are as follows; an oven mitt, a frying pan, three pots, two lids, and six other kitchen utensils including a spatula, a soup spoon and more.

All in all, if you are looking for a kitchen set to buy your little one this year, then you should certainly consider one of these two options – they've certainly proved highly popular with a lot of children so far. Of course, there are plenty of other different toys that go well with kitchens, too, so it is worth doing a bit of shopping around.
•Do your kids have a play kitchen? What kind?
This post was a collaboration.
Thank you for reading!