This post is sponsored by Mighty Nut® and Fit Approach. All opinions are my own.
Who doesn't love peanut butter? It's pretty much the best on-the-go snack there is. Well, unless you're allergic, and in that case, I feel for you. Sometimes, I want to take my peanut butter with me (long days of nannying, fitness endeavors, etc), and a giant jar of peanut butter is too much. Luckily, Mighty Nut (Peanut Butter & Co) has released POWDERED peanut butter!
Powdered peanut butter tastes just as good, if not better than regular peanut butter, and it's much healthier. Mighty Nut's original powdered PB has only 45 calories per serving (2 tbsp), 1.5g of fat, and 2g of sugar (plus 6g of protein). Simply mix 2 tbsp of PB with 1 tbsp of water and stir until smooth.
There are four flavors: original, vanilla, chocolate, and flax & chia.
 I was trying to think of various things I could make using this PB, in addition to the protein shakes I already make using it (SO good!). I came up with the idea of peanut butter Greek yogurt. One word: brilliant!
Here's how I made my peanut butter yogurt snack:
1 single-serving container of plain Greek yogurt (I used Kroger/Ralph's brand vanilla Greek yogurt for an extra hint of vanilla)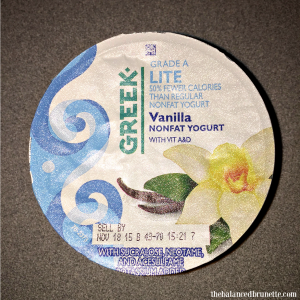 I put the yogurt in a bowl for easier mixing. I then added one scoop (using the scooper that came with the PB, which is about 1.5 tbsp) of powdered PB (vanilla) to the yogurt.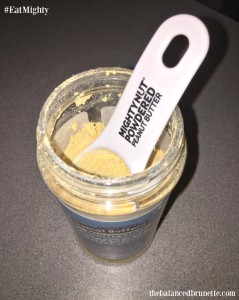 I then added 1 tbsp of cacao nibs (affiliate link: Navitas Naturals brand) to the yogurt and PB.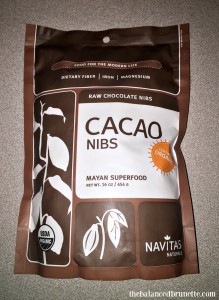 Mix it all together, and voila!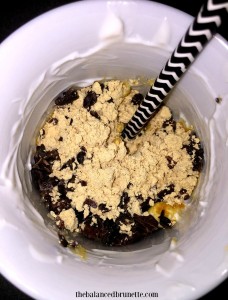 Let me tell you guys, this snack is SO good, and so simple to make! Give it a try for yourself and let me know how you like it. 🙂
Now, without further adieu, the giveaway!
Mighty Nut has teamed up with Fit Approach/#SweatPink to offer one lucky person a bottle of Mighty Nut powdered peanut butter (winner's choice of flavor), plus a branded measuring scoop. As a #SweatPink ambassador, I get to share this giveaway with you!
Giveaway rules: US only. One prize per person. If you win this giveaway, and have already won another prize from Mighty Nut through another blog, please disclose that you have already won so we can choose another winner. Giveaway ends Nov. 6 at 11:59 pm PST.
a Rafflecopter giveaway

Good luck to everyone who enters! If you can't wait to see if you've won, visit Mighty Nut's website for a list of retailers who carry Mighty Nut, or visit ilovepeanutbutter.com.
Follow Mighty Nut on social media for recipes, coupons, updates and more: Twitter, Instagram, Facebook.
Are you a peanut butter fanatic?
What are your thoughts on powdered peanut butter?
Thank you so much for reading! If you'd like to receive updates, please subscribe to my blog here:
[subscribe2]