This post is sponsored by Women's Forum and thinkThin®. All opinions are 100% my own.
If I had to choose only one thing I am passionate about, it's wellness. To me, wellness means feeling happy, healthy, energized, and having an all-around feeling of contentment. To obtain this, I balance nutrition, yoga, meditation, writing, and outdoor adventures.
I champion women's wellness through nutrition with thinkThin® lifestyle bars and oatmeal! The bars are the perfect pick-me-up for my super busy days (which is practically every day). I'm not often in a place where I can refrigerate snacks or meals, so having a high protein, low sugar bar in my bag is essential. The best part? I don't have to choose between healthy and delicious; these bars are both!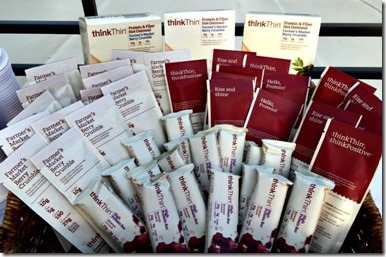 I had the privilege of trying the oatmeal at the Sunrise Yoga event with fitness expert Andrea Metcalf (hosted by Women's Forum and thinkThin®). The Farmer's Market Berry Crumble oatmeal was SO GOOD! It's my new go-to breakfast. It's seriously so delicious; the fact that it's healthy makes it that much better! thinkThin® knows what's up. 😉
So, more about this Sunrise Yoga event. It was held a few weeks ago (Thursday, Aug. 6) at The Fairmont Hotel in Santa Monica, Calif. Andrea led a 30 minute yoga session (starting at 7 a.m.) followed by breakfast and the opportunity to talk with Andrea/other yogis! Andrea is full of energy and happiness; she inspired us to thinkPostive®. She is the definition of the modern-day health and wellness woman.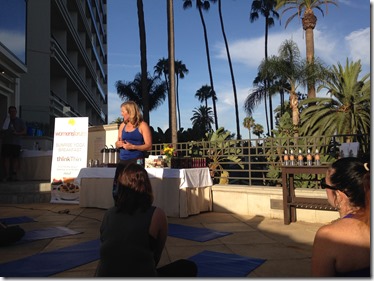 The women who participated in the sunrise yoga event were confident, strong, positive, supportive, and full of gratitude. The atmosphere was uplifting and the view was beautiful!
It was such a privilege doing yoga with Andrea Metcalf and the beautiful LA yogis! I left feeling excited and optimistic about women's wellness.
thinkThin® inspires (and nourishes) me to live a balanced lifestyle; after all, I am The Balanced Brunette!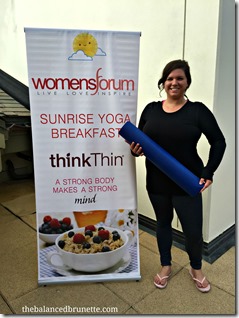 What helps you live a balanced life? What does wellness mean for you?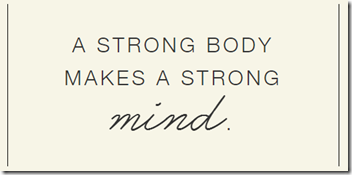 #LiveLoveInspire
Thank you for reading!
Please subscribe to my blog here:
[subscribe2]