We're less than a week away from Christmas! Hopefully, you've picked up all the gifts you need. However, if you tend to be like me, you wait until the last minute for those holiday presents.
I rounded up a few last-minute unique holiday gifts for anyone who still needs presents for their loved ones!
I recommend installing the extension

SimplyCodes

to check for more coupons, codes, and discounts!
(This post contains some affiliate links. If you purchase something through a link, I may receive a small commission.)
---
For the kitchen lover:
Zavor NOIR Cast Aluminum Cookware
Zavor makes cast aluminum cookware, as opposed to cast iron. Cast aluminum is great because it's much lighter than cast iron. I have weak wrists (so many sprains in my past) so having lighter skillets is ideal.

Something that I really love about the Zavor cookware is the removable handles! I didn't realize this was something I needed until I experienced it. Not only is storing so much easier but so is washing the skillets! This cookware needs to be hand-washed with warm, soapy water, and I have a small sink. It's so much more convenient having handles that can be removed (AND the handles come in different colors!). Also, Zavor uses Whitford Fusion Ti Interior coating on all their products.

"Just like most top-quality ceramic coatings, Whitford Fusion Ti is BPA, PFOA, and PTFE Free. Unlike other ceramic coatings, it is made with titanium-based particles for better durability and resistance to abrasion."

Zavor Website
You can shop Zavor on Amazon or their website. You can find the Zavor NOIR skillets pictured above here: buy Zavor skillets on Amazon.
---
For the lover of clean, healthy teeth:
Goby Electric Toothbrush
I've used a few electric toothbrushes but nothing as awesome as the Goby Electric Toothbrush!
I'm going to get right into it and tell you what I love about the Goby brush:
The brush head is circular and small.
The bristles are SOFT.
The charging stand is convenient AND looks chic. It also only requires full charging twice a month!
The brush itself looks modern and chic.
It's split into four 30-second "sections"
There's standard mode and a lighter mode.
There is a travel brush protector.
Goby is currently offering a travel bag that's super cute!
The handle comes in various colors and finishes (classic, metallic, monochrome).
I have the white moonstone brush and it looks so cool and cute on my bathroom counter! The small brush head is probably my favorite thing about my Goby brush though. I hate using big toothbrushes because they always make me gag. The small, circular brush head really is ideal for me.
I'm not just saying this because I'm reviewing it on my blog: I really, really love the Goby brush!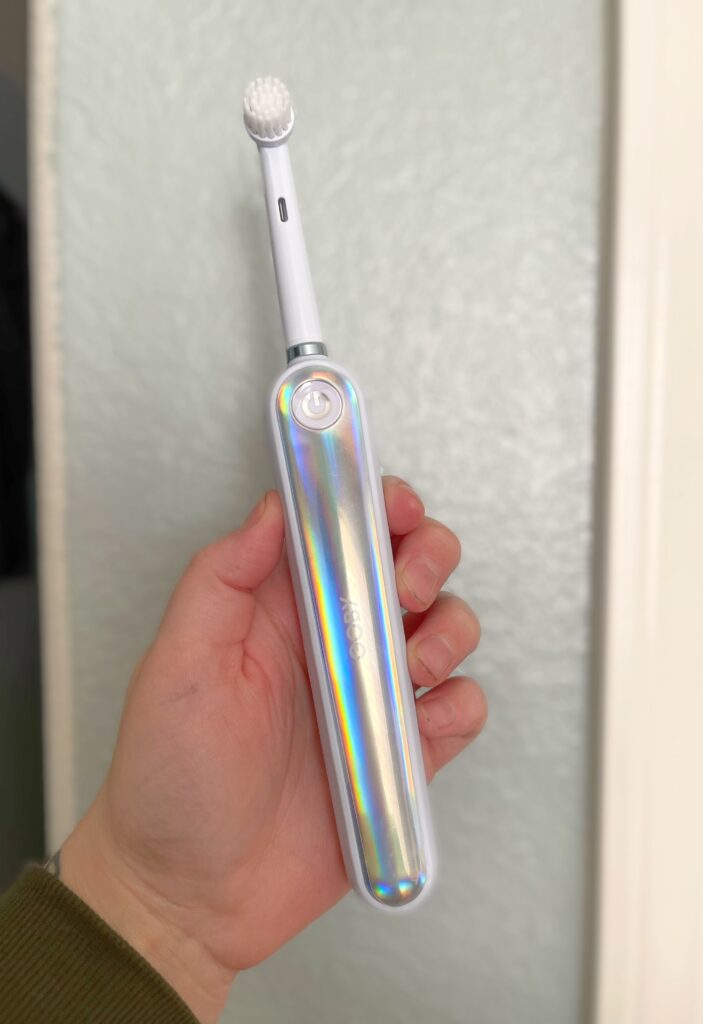 You can shop Goby on their website. Right now, they're offering 15% off two brush kits or 25% off three brush kits. The kits come with the Brush Kit + Toothpaste & Brush Head auto-refill.
---
For the skincare lover:
FACTORFIVE Eye/Lash Cream
FACTORFIVE eye/lash cream is powered by ethically derived human stem cells to replenish growth factors that deplete as we age. I was looking for a new eye cream because the one I was using was burning my under eyes (I was getting a burning rash and it hurt so badly!). I tried FACTORFIVE because I love the idea of stem cell treatment. I'm so happy because the cream doesn't burn the skin around my eyes at all and it's actually very soothing. I haven't really noticed any decrease in eye wrinkles, but I haven't grown any more wrinkles, so that's a plus for me! Regardless of wrinkles, though, what's most important to me in an eye cream is soothing, comfort, and hydration; FACTORFIVE definitely provides those things!
The eye/lash cream is also supposed to help with eyelash growth, which I desperately need. I haven't noticed a huge difference, but I'm going to continue to use the cream to see if it helps with that (and I will update this post!).
"FACTORFIVE products are safe for everyday use— the eye/lash cream is prostaglandin-free and will not change the color of your eyes. They are formulated with humanity in mind—without parabens, mineral oil, sulfate detergents, phthalates, urea, DEA or TEA—and not tested on animals."

Website
Sign up for FACTORFIVE's newsletter on their website to receive 10% off or find FACTORFIVE on Amazon.
---
For the health-conscious and natural energy lover:
Active-PK
LCR Health™ Active-PK™ Longevity Activator is a supplement that is designed to fight fatigue and abdominal fat. I was interested in Active-PK because I wanted an alternative to drinking a ridiculous amount of coffee every day. I like it because it doesn't have caffeine, dairy, or synthetic additives! The capsules are also vegetarian. It uses AMPK Activation, which is the body's process of converting nutrients into usable energy.
I do feel a difference when I take Active-PK, it's pretty great! I wouldn't say it's enough energy to replace how much coffee I drink daily, but I also need to slowly decrease my coffee consumption. I really like that Active-PK doesn't give me jitters or headaches! That's definitely a huge plus. So I'll say that Active-PK is worth giving a try!
You can purchase Active-PK on Amazon or the LCR website.
I hope these unique gift ideas are helpful to you this holiday season!
Thank you for reading!